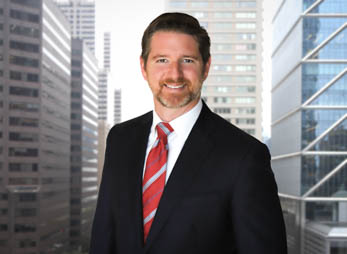 Daniel is a creative, strategic and dedicated attorney who assists his clients in all phases of litigation, from pre-suit investigations, discovery, depositions, motion practice, trial and appeal. Daniel focuses on efficient case resolution for his clients from the moment of inception.
Daniel's practice areas include FELA and railroad litigation, commercial vehicle liability, premises liability and transportation litigation. Daniel has handled over 100 cases from the initial pleading stage to resolution. He routinely achieves favorable results for clients through motion practice, aggressive settlement negotiations, arbitration and jury trials. Daniel also advises clients on complex matters, including insurance coverage issues and contractual rights and obligations under lease agreements.
Daniel's significant accomplishments include:
Second Chair Trial Attorney - favorable jury verdict of $101,000 in damages trial where injured plaintiff was claiming a TBI and over $6,000,000 in damages for pain and suffering and lost wages; responsibilities included oral argument for contested motions, cross examination of plaintiff's fact witness, medical expert and economic experts, and presentation of defense medical expert and fact witnesses testimony.
Preclusion of novel scientific evidence of QEEG in a Frye Motion, a question of first impression in Pennsylvania Courts.
Multiple defense awards in state and federal arbitration hearings.
Daniel is a member of the Philadelphia Bar Association and Brehon Law Society. Daniel also regularly serves as an arbitrator for the Philadelphia Court of Common Pleas. He is also a Board Member of Scenic Philadelphia, a non-profit organization in Philadelphia dedicated to preserving aesthetic beauty.
While in law school, Daniel served as Business Editor on the Rutgers Law Journal, was a member of the National Trial Advocacy Team, advanced to the Semi-finals in the Hunter Advanced Moot Court Competition, served as a Legal Research and Writing Teaching Assistant, was a Marshall Brennan Fellow, regularly achieved the Dean's List, and was a recipient of the Phillip Levin Scholarship Award for Outstanding Academic Achievement. He also interned for the Camden County Prosecutor's Office, New Jersey Attorney General's Office, Criminal Division - Appellate Bureau, and the Honorable Renee M. Bumb, U.S.D.J., United States Court for the District of New Jersey.
Prior to joining Landman Corsi Ballaine & Ford P.C., Daniel clerked with the Honorable Francine I. Axelrad, P.J.A.D., Acting Presiding Judge, New Jersey Superior Court, Appellate Division.
Practice Areas
Admissions
Pennsylvania, 2007
New Jersey, 2007
U.S. District Court District of New Jersey
U.S. District Court Eastern District of Pennsylvania
Published Works
Constitutional Law--Due Process--Statistics and Constitutional Interpretation: Justification for the Wisconsin Supreme Court to Reinterpret Its State Constitution Regarding Admissibility of Show-Up Indentifications in Criminal Trials, State v. Dubose, 699 N.W.2d 582 (Wis. 2005)
Education
J.D., Rutgers School of Law - Camden, New Jersey, 2007
Dean's List
Business Editor, Rutgers Law Journal
National Trial Advocacy Team
Hunter Advanced Moot Court Competition Semi-Finalist
Marshall-Brennan Fellow
Phillip Levin Scholarship Award
M.B.A. With Honors, Rutgers School of Business, Camden, New Jersey, 2008
B.A. With Honors, Rutgers College, 2003
Phi Beta Kappa Honors Society
© 2012 by Landman Corsi Ballaine & Ford P.C.