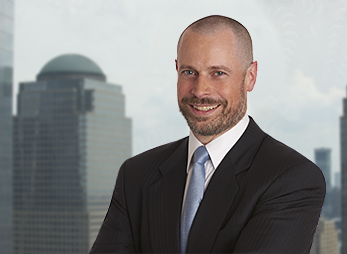 Andrew P. Keaveney
Member
New York
Andrew is known for not backing down from challenging cases or difficult adversaries.  His proactive approach to all matters has resulted in favorable outcomes.  Clients can look to his skills and experience, both in and out of the courtroom, to best represent their interests.  He is frequently called upon to guide clients through the unique and somewhat archaic New York court system and its rules.
Andrew handles a variety of cases and assesses each new matter to develop an effective and cost efficient resolution strategy.  He has tried cases to verdict in State and Federal courts and frequently represents clients at mediations.  In over a decade of practicing law, he has represented clients in numerous areas.  For example, Andrew has
Represented a funeral home business in Federal Court, Multi-District Litigation, against claims of mishandling and desecration of a body and breach of contract,
Negotiated with the City of New York on behalf of a national beverage company regarding thousands of traffic violations issued to its delivery trucks, and
Defended a sports venue and entertainment company against personal injury claim that occurred when a professional wrestler fell on a spectator, resulting in a favorable result to the client.
Tried a FELA case on behalf of a commuter railroad which resulted in a plaintiff's verdict but which assessed plaintiff with 70% contributory negligence.
In addition, Andrew has represented physicians, dentists and chiropractors in professional liability matters, contractors in labor law claims, property owners and builders in construction defect cases, subrogation claims and mechanic liens, and interstate railroad carriers in FELA action.
Back to Andrew P. Keaveney Bio
Representative Cases
McHugh v. Metro North Commuter R.R., 33 Misc.3d 1211(A) (Sup Ct, N.Y. Co. 2011) (dismissing passenger's case on the grounds that there was no evidence the defendant's station ramp was dangerous or negligently maintained)

In re Human Tissue Products Liability Litigation, 2007 WL 4117237 (D.N.J.) (denying plaintiff's motion seeking class certification on behalf of relatives of decedents who claims that defendants harvested and processed bones and tissues from their relatives' bodies without proper consent)

Hernandez-Vega v. Zwanger-Pesiri Radiology Group, 39 A.D.3d 710 (2d Dep't 2007) (upholding the trial's court's decision which exercised its discretion in considering an expert affidavit which showed that defendants did not depart from good and accepted medical practice)

Antonio v. Beckford, 2006 WL 2819598 (S.D.N.Y. 2006) (dismissing plaintiff's medical malpractice case for failure to prosecute her claim)

Shields v. Baktidy, 11 A.D.3d 671 (2d Dep't 2004) (reversing the trial court's decision which denied defendant's motion to dismiss certain medical malpractice claims as time barred which ultimately led to the dismissal of plaintiff's case)
Practice Areas
Admissions
New York, 1999
New Jersey, 1999
U.S. District Court Southern District of New York
U.S. District Court Eastern District of New York
U.S. District Court District of New Jersey
U.S. Court of Appeals 2nd Circuit
Associations and Professional Activities
New York State Bar Association
Member, Committee on Civil Practice Law and Rules
New Jersey State Bar Association
Education
J.D., New York Law School, New York, New York, 1999
B.A., George Washington University, 1992
© 2012 by Landman Corsi Ballaine & Ford P.C.